In tandem with last week's release of Lucy Walker's excellent documentary,
Countdown to Zero
, which examines the current state of nuclear affairs around the world, as well as the recent goings-on related to Vermont Yankee (the local company that operates a 540 megawatt nuclear powered generating station which has found itself the focus of (too few) news stories lately due to radioactive leaks and subsequent clean-up efforts), we thought it was a good moment to turn our attention to some films that address the atomic issue. (These films and more on the subject can be found on our newly created Current Events shelf...)

Building Bombs
An insightful and unsettling look at the American nuclear industry and the issues surrounding the managing and operating of facilities as well as the issues of waste disposal. The documentary became a flashpoint of controversy when it was banned by PBS in 1991 (presumably due to fear of negative reactions by corporate sponsors).

Atomic Cafe
A collection of propaganda and industrial films from the 40s and 50s -- a veritable wealth of disinformation regarding atomic energy.
The China Syndrome
Jane Fonda and Michael Douglas play journalists who happen to uncover an accident at a local nuclear power plant who are stonewalled in their investigation until a senior plant worker (Jack Lemmon) decides to take desperate measures to make the public aware of the situation. In an uncomfortable coincidence, this film was released just 13 days before the meltdown at Three Mile Island.
Silkwood
Meryl Streep plays whistle-blower Karen Silkwood in this character-driven suspense tale (based on a true story) directed by Mike Nichols. Cher and Kurt Russell both give great supporting turns as well.
The Day After
and
Threads
Two television movies dramatizing the possible effects of nuclear warfare. Although some of the speculative science would now be considered questionable, both films became widely
cited reference points and helped encourage public debate about the nuclear question in the country. In England, Peter Watkins' 1965
The War Game
(originally banned by the BBC), provoked discussion in the same manner.
When the Wind Blows
This animated feature from 1986 follows a sweet and naive elderly couple as they struggle to make sense of their situation in the days following a nuclear disaster.

Dr. Strangelove or: How I Learned to Stop Worrying and Love the Bomb
One of the greatest black comedies ever made, Stanley Kubrick's acerbic doomsday saga still packs a punch. Not to mention tremendous performances by George C. Scott, Sterling Hayden, Slim Pickens, Peter Sellers, Peter Sellers, and Peter Sellers.
See Also:
Dark Circle
On the Beach
Miracle Mile
War Games
Fail-Safe
(1964)
Fail Safe
(2000)
Thirteen Days
Hiroshima Mon Amour
New to Our Shelves This Week:
Going the Distance
Drew Barrymore and Justin Long lead a cast of comic actors (including Charlie Day, Christina Applegate, Jim Gaffigan, Jason Sudeikis, Rob Riggle, & Ron Livingston) in this alternately raunchy and sweet rom-com.
Knight and Day
Tom Cruise and Cameron Diaz in an action flick about spies and such.
The Sorcerer's Apprentice

The Special Relationship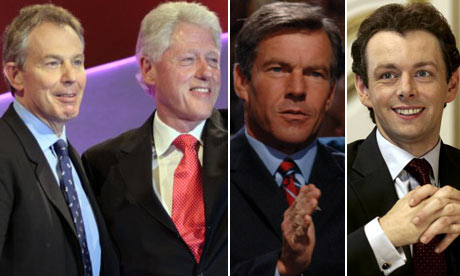 The third outing for actor Michael Sheen as former British Prime Minister Tony Blair, following
The Deal
and
The Queen
. All three films are penned by Peter Morgan. This one focuses on the relationship between Blair and Bill Clinton (played by Dennis Quaid).
Cairo Time
Patricia Clarkson has earned typically rave reviews for her performance as a woman on a journey of discovery - self and otherwise.

Valhalla Rising
Bloody Viking actioner by director Nicolas Winding Refn (
The Pusher Trilogy;
Bronson
).
Vampires Suck

Life in Flight
As Far As My Feet Will Carry Me
I Knew It Was You: Re-Discovering John Cazale
A short documentary on the brief but brilliant career of the underrated actor.
People Like Us
The British series that hilariously exposes the more staid conventions of the documentary form.
Parks and Recreation
- 2nd Season
The show really hits its stride in this second season.
For more news, updates, and exclusive deals,
find us on Facebook and follow us on Twitter!