October is upon us... Halloween is right around the corner... Ready to get your
HORROR
on?
All next week, from Sunday to Saturday (10/2-8), to help get you in the mood,
when you rent one horror film, you can get another one free!
(limit one freebie per visit)
Also coming next week:
The first show of
Vermont Stage Company
's season (and the first show produced under the auspices of the new artistic director,
Cristina Alicia
),
Photograph 51
boasts a great, all local cast and tells a compelling story of scientific discovery and disputed credit. Check it out!
New to Our Shelves This Week:

Transformers: Dark Side of the Moon
Don't let the title mislead you: Michael Bay's latest installment in the franchise has nothing to do with Pink Floyd.
Carlos
Read Margot Harrison's review of the latest by Olivier Assayas
here
- part of her Movies You Missed blog series for Seven Days.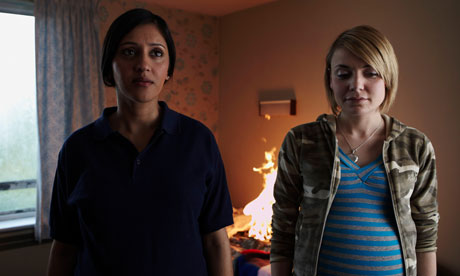 The Hour
This late-50s set BBC series just got picked up for another season.
The Arbor
Documentary on the troubled daughter of the troubled late playwright Andrea Dunbar.
The Ledge
L'Amour Fou
L.A. Zombie
Provocateur Bruce LaBruce continues mashing-up horror, porn, & satire with this follow-up to his
Otto; or Up With Dead People
.
Miss Nobody
Without Men
Inside Out
American Loser

The Lost Future
The Phantom Carriage
Criterion releases Victor Sjostrom's 1921 classic fable. One of the films that inspired Ingmar Bergman to make movies.
Inspector Lewis - 4th Season
Hung - 2nd Season
How I Met Your Mother - 6th Season
Modern Family - 2nd Season
"Don't apologize. I love it when you're human."
For more movie news & notes -- as well occasional exclusive deals --