New to our shelves this week:

Scott Pilgrim vs. the World
The most recent offering by the man behind
Spaced
,
Shaun of the Dead
, and
Hot Fuzz
is an energetic blast. As one staff member remarked, "Watching an Edgar Wright movie makes most other directors just look lazy." Plus, music by Beck!
Antichrist
The latest provocation by Lars von Trier is audacious, unsettling, and sure to inspire plenty of debate, disgust, and discussion.
Grown Ups
Ramona and Beezus
Charlie St. Cloud
Trade Routes
A political thriller, penned by a former Clinton aid, about globalization and free market economics.
Lovely, Still
Love Ranch
Joe Pesci is back in action, in this Taylor Hackford film based on a true story. Also st
arring Hackford's wife, the "wizard" Helen Mirren.

Three and Out
Colin
A no-budget take on the zombie horror bloodbath 'genre.'
Destricted
An odd assortment of filmmakers, including Gaspar Noe, Larry Clark, & Matthew Barney, contribute short films on themes of sex and pornography.

Ticked-Off Trannies with Knives
The title kinda says it all.
Californication - 3rd Season
Lie to Me - 2nd Season
The Boondocks - 3rd Season
Doctor Who - 5th Season
Men of a Certain Age - 1st Season
This week
,
Lyric Theatre Company
presents the perennial favorite,
Peter Pan
, on the Flynn mainstage. Hundreds of local community members contributed countless hours to bring the much-loved musical back to the stage, which will run this Thursday through Sunday. Get your tickets while they last!
And to help get you in the mood - or, perhaps, to keep you in the mood - we've g
athered all our Pan-centric films together on our "Speaking Of..." shelf. Some of these include:
The oldest film adaptation of the tale, 1924's
Peter Pan
- a silent rarity that features impressive production design and technique. Photographed by James Wong Howe (who would go on to lens such classics as
The Thin Man, Seconds
, and
The Sweet Smell of Success
).
Disney's classic animated version, 1953's
Peter Pan
, has aged well and remains exciting and endearing. We also have the Disney sequel, 2002's
Return to Neverland
.
A third feature-length adaptation, 2004's
Peter Pan
, is a live-action, big-budget affair that was largely ignored upon its release but has since found plenty of fans on DVD.
We also carry two versions of the stage production. 1960's
Peter Pan
with Mary Martin is unfortunately not yet available on DVD, but luckily we still have our trusty VHS copy! For a more recent take, there is 2000's
Peter Pan
with Cathy Rigby.
Steven Spielberg's 1991
Hook
offers a re-imagining of the tale that features an adult Peter Pan (Robin Williams) who finds himself back in Neverland trying to rescue his son. The excellent cast also includes Dustin Hoffman, Bob Hoskins, Charlie Korsmo, and Maggie Smith.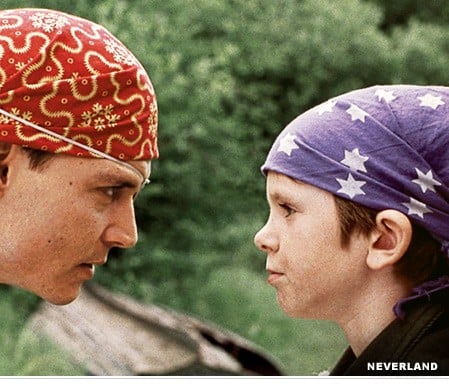 Another re-imagining, this one a darker, more adult-oriented take, can be found in 2003's
Neverland
.
For those interested in the background of the story and of the author, J.M. Barrie, we have several selections: a new documentary,
Peter Pan
and J.M. Barrie: The Boys Who Wouldn't Grow Up
, takes an academic look at the writer and his subject. The critically acclaimed 1978 BBC series,
The Lost Boys
, features Ian Holm as Barrie. And 2004's
Finding Neverland
, with Johnny Depp as the writer, imagines the way the classic story was first inspired.
Also opening this week:
Josh Bridgman (
Silent Invasion
) has a new play,
Concrete Kingdom
, that opens at the Off Center For the Dramatic Arts this Thursday (11/11) and runs through next Sunday.
For more news, updates, and exclusive deals,
find us on Facebook and follow us on Twitter!