New to Our Shelves This Week:
The Tree of Life
Terrence Malick's latest offering divided audiences across the country. (Some theaters even posted warnings that no refunds would be given to viewers who walked out of screenings!) Some hailed it as profound; others simply found it confounding. Either way, it is a singular experience.
The Trip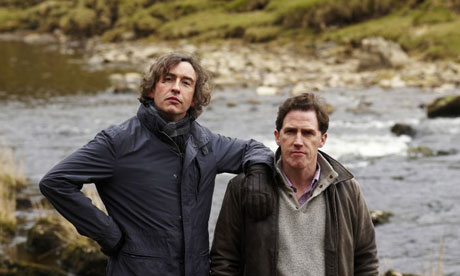 Steve Coogan and Rob Brydon star in Michael Winterbottom's highly enjoyable picaresque (edited into feature-length form from a six-part television series). The two entertain one another with impressions and comic riffs, bicker about status and personal foibles, and eat well along the way.

Terri
An overweight teenager struggles to find a sense of belonging in this indie film by Azazel Jacobs (
Momma's Man
;
The GoodTimesKid
). John C. Reilly and Creed Bratton co-star. (A video store rental exclusive - not available through Netflix or Redbox!)
Green Lantern
Ryan Reynolds dons the tight suit for this week's superhero release.
Horrible Bosses
The game cast of this amusing black comedy includes Jason Bateman, Charlie Day, Jason Sudeikis, Colin Farrell, Kevin Spacey, and a very hilarious Jennifer Aniston.

Submarino
Thomas Vinterberg (
The Celebration
) delivers another tragedy-tinged Danish drama.
Mr. Nice
Biopic of Howard Marks, one of the biggest hashish & marijuana distributors in the world during the 70s. Read Margot Harrison's review of it
here
.
Arena
Lethal stakes gladiatorial games, starring Samuel L. Jackson.
Zookeeper
Kevin James presides over animals running amok in this family-friendly comedy.
And for some reason, the premise just keeps reminding me of this no-so-family-friendly classic Gilda Radner bit:

Beautiful Boy
Maria Bello and Michael Sheen play the parents of a high school shooter.
"Master Harold"... and the Boys
This latest adaptation of Athol Fugard's play stars Ving Rhames.

The Princess of Montpensier
Acclaimed French director Bertrand Tavernier (
Life and Nothing But
;
'Round Midnight
;
In the Electric Mist
) delivers a 16th Century-set drama.

Judy Moody and the Not Bummer Summer
Family film based on the popular book series. (A video store rental exclusive - not available through Netflix or Redbox!)

The Child's Eye
,
The Sylvian Experiment
,
Vlog
,
Mulberry Street
, &
The Caller
(2011)
This week's horror offerings.
Bones
- 6th Season
Gavin & Stacey
- 2nd & 3rd Seasons
This English/Welsh sitcom is not only hilarious, it's got heart to spare!
Snuff Box
Hilarious absurdity from Matt Berry and Rich Fulcher (
The Mighty Boosh
).
The Riddle of the Sands
Well respected 1979 adaptation of what's considered to be the first British spy novel.
Last Exit to Brooklyn
Adaptation of Hubert Selby Jr.'s 1950s set novel.
Phaedra
Jules Dassin's re-telling of the Greek myth stars Anthony Perkins and Melina Mercouri.
Blue Sunshine
70s cult horror film explains how bad acid can lead to really bad hair days. Reefer Madness for the LSD set.
Queer as Folk
(UK) - Complete Series
The original British series finally gets a DVD release!
For more movie news & notes
-- as well occasional exclusive deals --