Plenty of horror films have used religious and supernatural themes to propel their stories (from
The Exorcist
to
The Rite
), but here we focus on those tales that eschew the supernatural in favor of the fear and terror inspired by the fanaticism of disturbed believers. What happens when faith trumps reason, religious conviction usurps civil law, and biblical interpretation gets skewed through one or more unstable person's misguided and nefarious perspective? The results ain't pretty. So here's a handful of movies where evil is perpetuated and horror ensues because "
God told them to
"...
Red State
A Christian cult begins following the hell & brimstone rantings of their charismatic preacher to their wicked conclusions. Michael Parks gives a great performance as the Fred Phelps-type leader in Kevin Smith's first horror endeavor. John Goodman, Melissa Leo, and Stephen Root co-star. Read Margot Harrison's review of
here
.
Seven
David Fincher's exceptional serial killer thriller is a deeply unsettling affair that doesn't pull any punches. The psychopath committing the gruesome murders has been "chosen" to do so; his victims all exemplifying the seven deadly sins. [Warning: Best not to eat spaghetti while watching this one.]
Frailty
Bill Paxton stars in and directs this spooky tale of a father who begins receiving instructions from God to start eliminating the demons in his midst. When he recruits his two sons to his "mission," quality family time takes on a whole different definition.
Hell House
This excellent documentary chronicles the preparation and execution of an annual Christian Halloween attraction that purports to show the horrors of the secular world. Local teens audition and compete for coveted roles such as "Abortion Girl" and no amount of fake blood or disinformation is spared as they attempt to frighten kids towards the path of righteousness.
Jesus Camp
The indoctrination of children with fundamentalist dogma is on chilling display in this doc about a Christian summer camp that teaches its young charges to surrender to the will of their Lord. The controversy stirred up by this film led to the closure of the camp in question; though plenty of other similar ones still exist.
Eye of God
Writer, actor, & director Tim Blake Nelson (
Animal Factory
;
The Grey Zone
) helms this finely wrought tale of small town tragedy, propelled
by a recently released convict's deeply held new-found faith. The top-notch cast includes Martha Plimpton, Kevin Anderson, Richard Jenkins, Hal Holbrook, Nick Stahl, and Margo Martindale.
Day of Wrath
Carl Theodor Dreyer's 1943 film is an austere, eerie tale of religious conviction tearing apart the tranquility of a small Danish village in the 17th century. Accusations of sin and witchcraft turn members of the community against one another... and even against themselves.
The Night of the Hunter
Actor Charles Laughton's only directorial effort was this 1955 classic chiller about a sinister preacher who weds widows before knocking them off and reaping their inheritances. When the children of his latest victim flee, he follows in menacing pursuit. Robert Mitchum is perfectly cast as the murderous preacher, sporting a tattoo of LOVE on one hand and HATE on the other.
Jonestown: The Life & Death of Peoples Temple
The story of the San Franciscan cult founded and led by Jim Jones who, after raising the suspicions of local politicians and police, decided to move his "church" down to Guyana, South America. More than 900 of his followers traveled with him, soon to find themselves participating in one of largest mass suicides in history. This riveting documentary features interviews with surviving members and relatives as well as archival footage and, most disturbingly, audio recordings of the final moments of the cult.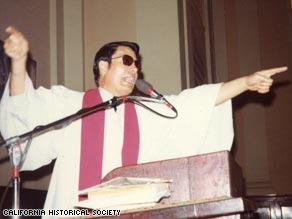 For more movie news & notes
-- as well occasional exclusive deals --