Labor Day Weekend Custom
er Appreciation Sale!!!

Stop by the store between Friday and Monday for our annual
Customer Appreciation Weekend.
Discounted rentals, late-fee forgiveness,
deals on all previously-viewed movies for sale, & more!



This has of course been a difficult time for many of our neighbors in this state as we all come to terms with the destruction and devastating effects of Hurricane Irene. Relief efforts had already begun before the storm was over, and there has been a truly affecting display of generosity and community spirit as volunteers and organizations around Vermont have stepped up to help.
If you are looking for ways to get involved in the relief effort, some recommended sites include:
An excellent resource that has helped co-ordinate much of the aid effort,
#VTResponse
.
A VT Irene Flood relief fund was also created on Facebook
here
.
Governor Shumlin posted about ways to donate on his
blog
.
And
Seven Days
has done a typically great job of reporting on the state of the state as well as offering directories of sites and organizations active in the relief efforts, especially this list
here
.
Texting FOODNOW to 52000 will donate $10 to the
Vermont Foodbank
.
There are also a couple of benefit concerts being planned for next weekend, including
this one
on Sunday the 11th at Nectar's. We'll post more info about these over the next week.
And at the Waterfront Video store, we will have Red Cross donation boxes available. Because every little bit helps.
(Thanks to James B. for the WeepyVT picture.)
New to our shelves this week: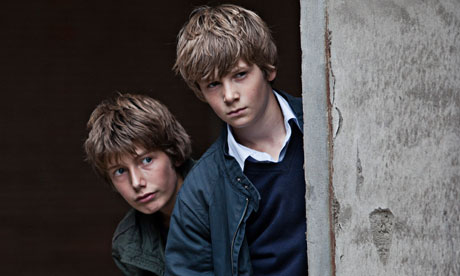 In a Better World
Susanne Bier's Oscar-winner for Best Foreign Language Film of 2010.
Prom
Who are
you
going with?
True Adolescents
Mumblecore enters its 30s.
The Perfect Host
David Hyde Pierce hosts a dinner party with a rather sinister menu.
Forks Over Knives
Documentary examining the relationship between diet and disease.
Police, Adjective
Romanian director Corneliu Porumboiu follows up his excellent droll comedy,
12:08 East of Bucharest
, with this meditation on the banality of procedure and intricacies of semantics.
X
An erotic Australian thriller.
Wrecked
Adrien Brody awakes in the wreckage of a car with no memory of how he wound up there.
Skateland
Back to the 80s... again.
Sons of Anarchy - 3rd Season
House - 7th Season
Cougar Town - 2nd Season
Parenthood - 2nd Season
Running Wilde - 1st Season
The Vampire Diaries - 2nd Season
Brewster McCloud
Altman's early absurdist comedy gets an MOD release.
The Complete Vigo
Criterion releases a 2-disc set of legendary French director's four films, including the iconic
L'Atalante
and the iconoclastic
Zero du Conduit
. A big fan, Michel Gondry, created this short piece of animation to herald the DVD release: watch it
here
!