First, dear readers, a giant mea culpa for the delinquency with these blog entries...
and a resolution to return to our regular frequency.
So while tardy, this does happen to be the first posting of the new year. And what better time to talk about annual "best of..." lists. Personally, I've always found it difficult to participate in the compiling and sharing of those types of lists because it always seems to take well into the following year (at least!) to actually get around to seeing all the buzzed-about films -- not to mention the hidden gems and off-the-radar wonders. This is due in part to pure logistics: many films (especially year-end award favorites) often take a while to reach our local theaters; and many films never do arrive, leaving us waiting for the eventual DVD releases. And of course, it's also due in part to time... and the lack of it. Who among us has actually got the time to watch all of the movies we wish we could?
That being said, we'd still like to hear what everyone's favorite films of last year were. Everyone reading this is cordially invited and strongly encouraged to share their lists in the comments section of this blog post. However, we here at Waterfront aren't really sticklers for restrictions, so the parameters of your list are entirely up to you... Perhaps it's a list of the best films of 2010 you've seen so far; or maybe it's the best new DVD releases of 2010; or maybe it's simply the best films you happened to see last year (or even the best films of a certain genre or ilk)... the options are open!
To get the ball rolling, I'll humbly offer my list. (A list of new "Seth Suggests" movies.) These are 21 of the most rewarding films I saw during the course of 2010, very loosely ranked:
The Devil's Playground: American Surrealism
(Unseen Cinema, Vol. 4, 1894-1941)
Next Floor
(Denis Velleneuve, 2008)
Exit Through the Gift Shop
(Bansky, 2010)
Citizen Dog
(Wisit Sasanatieng, 2004)
Last Holiday
(Henry Cass, 1950)
Roma
(Federico Fellini, 1972)
Fantastic Mr. Fox
(Wes Anderson, 2009)
Toy Story 3
(Lee Unkrich, 2010)
Mary and Max
(Adam Elliot, 2009)
The Taste of Tea
(Katsuhito Ishii, 2004)
Dementia
(John J. Parker, 1953)
I Am Love
(Luca Guadagnino, 2009)
Theater of War
(John Walter, 2008)
Henri Langlois: Phantom of the Cinematheque
(Jacques Richard, 2004)
Black Swan
(Darren Aronofsky, 2010)
When the Wind Blows
(Jimmy T. Murakami, 1986)
Boy A
(John Crowley, 2007)
Fish Tank
(Andrea Arnold, 2009)
Look Both Ways
(Sarah Watt, 2005)
Spirited Away
(Hayao Miyazaki, 2001)
Los Olvidados
(Luis Bunuel, 1950)
Well, that's me. How about you?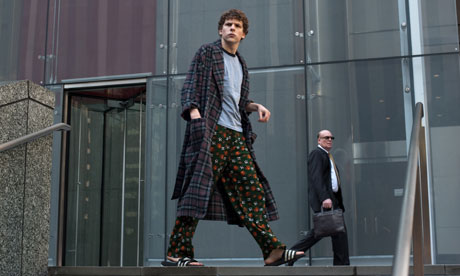 New to our shelves this month:
The Social Network
The film that has landed on nearly every single major critic's year end list and is currently sweeping through the awards season comes to DVD in a special 2-disc release with nearly 8 hours of extras. Aaron Sorkin's "facebook movie," directed by David Fincher, scored (excellently) by Trent Reznor, and starring Jesse Eisenberg, Andrew Garfield, and Justin Timberlake, may not be quite the revolutionary masterpiece it is being hyperbolically hailed as, but it's an engaging, highly enjoyable film that is well worth seeing.
Howl
James Franco plays Allen Ginsburg in this dramatization of the censorship struggle the poet faced concerning the titular work. Jon Hamm, Jeff Daniels, Mary-Louise Parker, David Strathairn, Bob Balaban, Treat Williams, and Alessandro Nivola also star; Rob Epstein and Jeffrey Friedman (the duo behind
The Times of Harvey Milk
and
The Celluloid Closet
) direct.
Jack Goes Boating
Philip Seymour Hoffmann's directorial debut, starring himself and Amy Ryan, centers around two working class New York couples.
Stone
Robert DeNiro and Edward Norton square off in this prison-set drama.
Dinner For Schmucks
Steve Carrell and Paul Rudd star in this remake of the 1998 French comedy,
Le
Diner de Cons
(euphemistically translated as
The Dinner Game
). The remake also features Jermaine Clement, Zach Galifianakis, and Kristen Schaal.
Paper Man
A down on his luck writer and a teenager form an unlikely friendship in this indie comedy starring Jeff Daniels, Emma Stone, Ryan Reynolds, Kieran Culkin, and Lisa Kudrow.
Animal Kingdom
A tense Australian offering about dangerous familial bonds and the grip of violence.
Machete
Robert Rodriguez turns his
Grindhouse
trailer into a feature-length revenge flick, starring Danny Trejo, Robert DeNiro, Jessica Alba, Michelle Rodriguez, Steven Seagal, Don Johnson, Cheech Marin, and even Lindsay Lohan.
Catfish
Intriguing documentary that caused a splash at Sundance last year, raising questions about truth, ethics, new media, and gullibility.
Piranha
Alexandre Aja (
High Tension; The Hills Have Eyes
) directs this remake of the 1978 Roger Corman/Joe Dante flick about mutated killer fish. A highly enjoyable B-movie that
truly delivers in the gore department.
Case 39
Renee Zellweger plays a social worker who realizes she's in a more dangerous situation than she expected in this horror thriller that also features Ian McShane and Bradley Cooper.

The Last Exorcism

And Soon the Darkness

The Army of Crime

Lebanon
Eichmann
The Lena Baker
Story
$5 a Day

Louis C.K.: Hilarious
Bela Fleck: Throw Down Your Heart
The Ricky Gervais Show
- 1st Season
Glee
- 2.1st Season
The Closer
- 4th Season

Big Love
- 4th Season